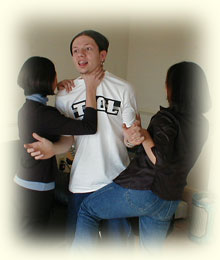 Let us see to your needs
Harem of Angst
Georgina Young


Uh hahnee, you shit down...I want to get for you yo rice...Oh...you no rike rice...what you want...I get for you...I do anyting fo you...Oh...I sho sorry I talk too much...I sorry..Me sorry... I woman...I risten to man...I live only to give man pleasure...to be exotic object. I be good wife fo you...I no speak Engrish...so I no talk much...No need to talk same ranguage to know ranguage of love.

Yeah right...You want exotic, erotic subservience go fuck yourself with an "oriental" vase.
Play Aeroplane Chess and other games all online for free!
Play Mahjong and other games all online for free!
An online community for Aspiring Asians, including original articles, a calendar of events, the latest news headlines, and more.