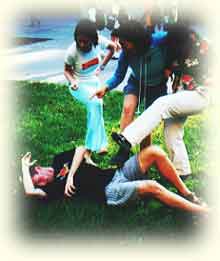 Let our ladies pamper you
Pranks



I converted my wav files to MP3's which means that you have to play them on some sort of MP3 player. I am new to the MP3 thing, I am like the cavewoman of technology. So anyway. Download them and then drag them into your MP3 player. I don't know how it works for PC people, but if you have a MAC, just drag the phrase on your desktop and an MP3 will appear! Listen to what I have up! Have a good time with it! -- BBCM


Ok, so we aren't the Jerky Boys. In an age of *69 and Caller ID meant we needed to be pretty clever about how we went about our calls. Nowadays, you can't just fart into the receiver and hang up--the prank call is a skilled art form. Plus, most of the places we called are used to police taps and prank callers, so getting anything juicy was a bigger push. Turn your speakers up! Some of these are hard to hear at your computer's normal sound settings!


Call #1 "It's the Israeli Calendar"

My friend Randy is the shit. He can do lots of great things without cracking up. Here in this call he makes to a massage parlor and asks for every thing from the senior's discount and more... Listen to me whining in the background! I was thrown for a loop! I didn't know I was going to be part of the call.

Call #2 "But I am a woman!"

My friend Rick is so funny. He is a Chinese American who stands about 5'3.'' You had to see him on the phone. FUNNY!

Call #3 "I swing both ways!!"

Again, Rick tries his luck at auditioning to be an internet model. No luck.

Call #4 "But can she fix a car?"

Dwayne knows what his priorities are when it comes to meeting a woman through the mail!